Pet Health Club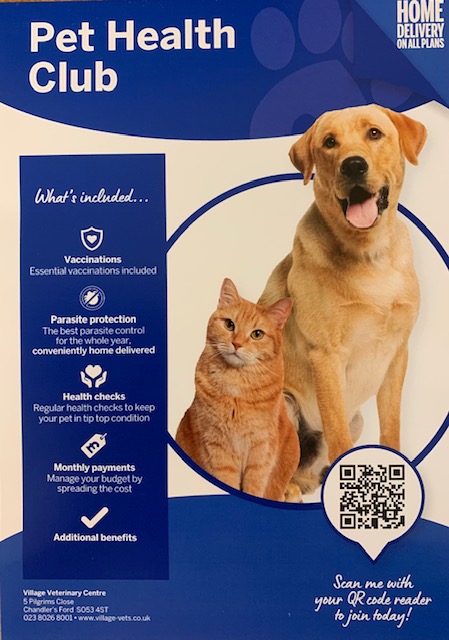 Pay monthly and save money on your pet's essential preventative health care with our Pet Health Club.
CLICK HERE TO JOIN ONLINE TODAY

PREVENTION IS BETTER THAN CURE
The Pet Health Club is not insurance. It covers the essential preventative treatments your pet needs throughout life, such as vaccinations, flea and worm prevention and regular health checks. Extra benefits of the club include discounts on all food and shop items.
Read on for more information, or speak to one of our team today to find out more about the Pet Health Club.
The plan is available for Dogs, Cats and Rabbits

What is included in the plan?

· Annual Health Check and Booster
· Full Puppy/Kitten vaccination course if required (first year only)
· Six month health check with a vet
· Personalised parasite treatment plan (sufficient for 12 months)
· 20% discount on all food and shop purchases
· Free home delivery service


VACCINATIONS WHICH ARE INCLUDED IN THE PLAN
DOG
· Distemper
· Hepatitis
· Parvovirus
· Leptospirosis

CAT
· Flu
· Enteritis
· Leukaemia

RABBIT
· Myxomatosis
· Viral Haemorrhagic Disease

HOW MUCH WILL IT COST? (PER MONTH)
Cat £15.49
Small Dog (under 10kg) £15.49
Medium Dog (10-20kg) £15.99
Large Dog (21-40kg) £18.49
Giant Dog (41kg +) £23.99
Rabbit £10.50
For puppies, please join them up to the plan which most closely relates to their expected adult weight.

HOW DO I JOIN?
CLICK HERE TO JOIN ONLINE TODAY
A one off £10.00 registration fee will be collected with your first monthly direct debit.
Minimum 12-month contract. Plan will automatically renew annually and will start a new 12-month contract period
QUESTIONS?
Contact our reception team on 023 8026 8001 or email them at villagevetscf@hotmail.co.uk and they will be happy to answer any queries you may have.
*Please note that one healthcheck will be given at the time of each vaccination. Six months after the vaccination, your pet will receive a 6 month healthcheck. Please be aware that the 6 month healthcheck cannot be used in lieu of a consultation for a pet who is unwell and requires a veterinary consultation.
** Home delivery service is available on dog and cat plans only and when puppies / kittens have finished growing and reach a stable weight.