Welcome To The Village Veterinary Centre - Proudly Independent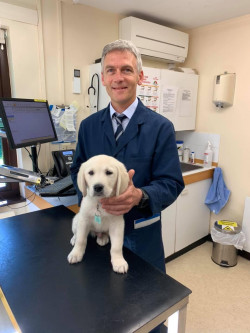 Your local independent veterinary practice - Established 2001
Caring - Helpful - Friendly
Welcome. The Village Veterinary Centre is an independent small animal veterinary surgery in Chandlers Ford, Hampshire which is owned and run by Patrick Bullen. Our clients tell us that the most important thing they want and need from a veterinary practice is a solid and trusting relationship when they need us most. We are all about building relationships with our clients and their pets and giving them quality healthcare along with the best service.
We are an independent practice which means that our treatment protocols are unique to the patient and the circumstances of the client.
OUR PATIENTS ALWAYS COME FIRST
For more information email us at village.vets@yahoo.co.uk. For a location map, please click here.
15 minute appointments
Same day consultations with the same vet
Easy Parking
Safe anaesthesia
In-house Laboratory
In-house X-Rays and Ultrasound Scanning
Microchipping
24 Hour Emergency Service
EASTER OPENING 2021
WE SHALL BE CLOSED FROM 6.30PM ON THURSDAY 1ST APRIL UNTIL 8.30AM ON TUESDAY 6TH APRIL. IF YOU NEED AN EMERGENCY VET WHILE WE ARE CLOSED, PLEASE CONTACT VETS NOW SOUTHAMPTON ON 02380 437999 OR VETS NOW WINCHESTER ON 01962 808306
Procedure for coming to the practice
We are open, however, due to social distancing constraints, we are not able to see as many patients as normal. Therefore, we have introduced some new procedures to keep you, your pet and our staff safe.
If you are vulnerable or shielding, please remain outside.

Please use the hand gel provided.

Please arrive on time for your appointment. If you are early or late, we may need to ask you to wait outside to avoid too many clients on the premises at one time.
PLEASE BRING YOUR OWN MASK OR FACE COVERING IF YOU ARE WANTING TO COME ONTO THE PREMISES

Unfortunately we are temporarily unable to register new clients
Due to having to work within the Covid19 restrictions, we are unfortunately unable to see as many clients as normal and therefore need to prioritise our existing clients.
However, we hope we will be able to start registering new clients again soon. So if you would like to register, please use the Registration Form and we will contact you as soon as we are able to register you.

We continue to be able to supply flea and worm treatment
Just a reminder that we are able to supply flea and worm treatment (which can be posted by arrangement) and repeat prescriptions. So if you need these, please call or email us so that we can dispense them ready for you.

We are able to continue supplying food
We are also able to continue supplying food. Please call us before coming down to collect it, so that we can ensure we have it ready for you.
Please collect your food and medication between 11am and 3.00pm if possible
Wherever possible, please can you collect your food and medication between 11.00am and 3.00pm (Mon-Fri). This means you are not arriving during consultations and social distancing will be easier.
We can deliver your pet's medication and food free of charge
We offer a free of charge delivery service to clients in the Chandlers Ford area for those unable to come and collect their items due to being in self isolation or shielding. Please request this when ordering.

The Pet Health Club
If you are a member of our Pet Health Club, you are still able to collect your flea / worm products which are included in the plan. Your pet can also have their normal vaccinations. If you are not a member and would like to join, you can join up online here Or give us a call on 023 8026 8001 and we can sign you up in-house. Full details of the Pet Health Club are here

Vets Now remain open as normal
Vets Now are open as normal for urgent care while we are closed. Their numbers are
Vets Now Southampton 02380 437999 Vets Now Winchester(Alresford) 01962 808306

Need Help?
If your pet needs to be seen by us but you are unable to bring them, and you do not have a friend or family member who can help, there is a volunteer group who are able to bring your pet to us on your behalf. We will then talk to you over the phone about your pet's health. They are also able to collect your pet's medication and food.
Their details are
Chandlers Ford Help, (covering Chandlers Ford, Hiltingbury and Velmore)
Tel: 023 8254 1100 Email: Chandlersfordhelp@yahoo.com www.chandlersfordhelp.org www.facebook.com/groups/CFHelp

Questions?
If you have any questions at all, please call us on 023 8026 8001 or email us at village.vets@yahoo.co.uk.


---